Key Considerations When Hiring A Personal Injury Lawyer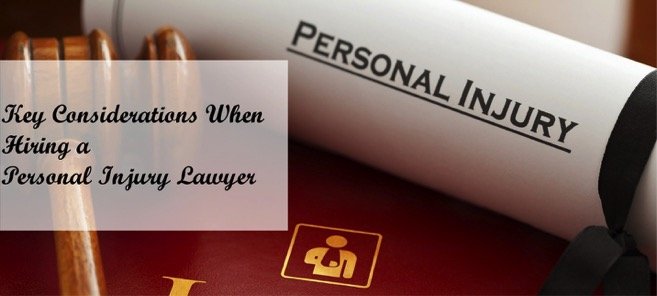 A personal injury lawyer is instrumental in helping victims acquire the compensation they deserve. These lawyers, differ in many aspects. The last thing you want is to hire an inexperienced rookie, especially if there is so much at stake. Injuries can leave you financially and emotionally drained. The outcome of your case may largely depend on your representation. The best strategy to finding the right personal injury lawyer is asking the right questions.
What is your specialty?
It is not uncommon to find lawyers who practice in almost every discipline of law. This means that they handle a little bit of everything. Personal injury law is specific and detailed. You need a lawyer who has extensive knowledge of injury lawsuits. It is best to work with a personal injury lawyer who specializes in injury cases. Specialization develops a high level of skill in any given field. This also gives better representation and consequently better results.
How long have you been practicing?
Experience weighs in heavily, especially if the case has to go to trial. The same applies for out of court settlements. You need a lawyer who has good negotiation skills. This is an expertise that is developed over time. Personal injury lawyers mainly charge on a contingency basis. This means that the fees charged by different lawyers may not vary by a wide margin. If the fee is somewhat the same, there is no reason why you should not get an experienced lawyer who is well versed with injury lawsuits.
What approach do you use?
Certain lawyers only settle cases out of court. There are others who will refer your case to other lawyers to try. A personal injury lawyer should work for the best interests of the client. If this means going to court, then they should be prepared. If you go to a personal injury lawyer who has no trial experience, then high chances are that you will have to settle for less that your claim is worth. Check the track record of a lawyer before enlisting their services. Experienced and confident lawyers will not shy away from a trial.
Do you have the resources to take my case?
Personal injury cases can be very expensive, especially in the event that the case goes to trial. A single case may need several expert witnesses. These professionals are hired and paid. If the injury lawyer does not have the financial muscle to give you the best representation, then they will settle for less. Personal injury lawsuits also need human resources. The lawyer should have a team of associates and investigators to tackle the case.
comments powered by

Disqus