Top 5 Damages That Can Be Claimed In A Motorcycle Accident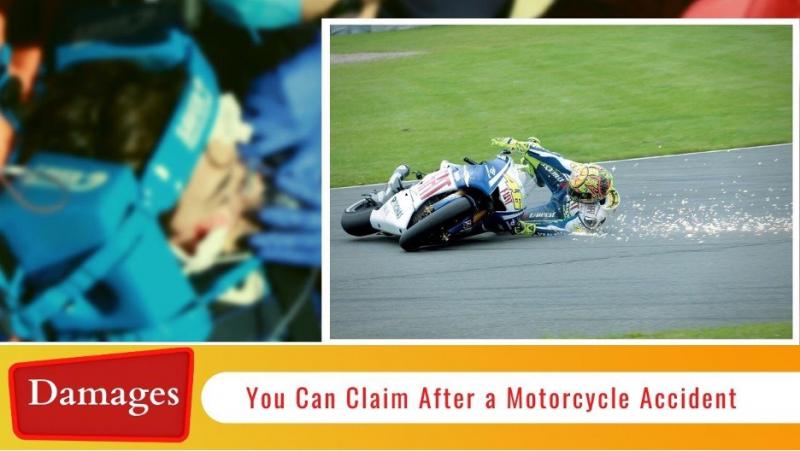 Image Credit - https://imagesource.io/images/motorcycle-accident-2/
Motorcycle riders account for only about 6 percent of vehicle traffic. Yet motorcycle injuries are three times severe than any other vehicle injuries. All thanks to their small frame, motorcycles are prone to severe injuries more than their four-wheeled counterparts.
According to the Nevada Department of Transportation, motorcycle accidents are more likely to cause severe injuries and deaths than regular cars.
Victims of motorcycle accidents can make compensation claims for their losses, injuries, and subsequent suffering. However, insurance may make it difficult for you as a victim to gain total compensation. That is why you need a motorcycle lawyer who will help you to claim your compensation aggressively.
Here are the top five damages that you can claim from a motorcycle accident:
Body Injuries
Injuries resulting from the motorcycle accident you just had are one of the damages that you can claim. Such injuries include head and neck injuries, spinal cord injuries, bone fractures, and many more.
If you experienced any of these after the motorcycle accident where you were not at fault you can confidently place a claim. The claims are based on the medical bills available.
Loss of Earning Capacity
Injuries will completely interrupt how you handle your everyday life, including your job and career. For example, if you were involved in a motorcycle accident where your earning capabilities were cut off due to the injuries you got, you could place a claim too.
You need to pay bills, pay medical bills and cater for your family needs. But since you cannot do all of that due to your injuries, you should consider placing a claim.
Motorcycle Damages
Motorcycles are an investment to some people. Whether they use it for transport or for different needs, damage caused by a motorcycle accident can attract a claim.
Some people also use motorcycles for their business, so when they are damaged, a source of income must have been cut off. Therefore if your motorcycle has been damaged, you can put a claim on it and get total compensation.
Emotional Distress
Just like the common road accidents, motorcycle accidents also may have an impact on your mental health. Some people go as far as looking for rehab facilities to ease the trauma. If you or your lawyer can prove from a medical point of view that you are suffering from mental problems, you can claim and get full compensation for the damage done to you.
In the case where you or a loved one will have to go for rehab, do not hesitate to make a claim and be fully compensated for the rehab fees. You can learn more about emotional distress claims for you to understand what you are claiming.
Long Term Body Injuries
If, for example, you became motion impaired because of the accident, you deserve it, and you have a right to full compensation. The full compensation should include the current incurred bills and the future bills that will go into the treatment. Your lawyer will help you come up with a good claim in such a claim and assist you in getting full compensation.
comments powered by

Disqus